Top-tier seminars and summit talks to support compelling show floor at inter airport Europe 2023
Innovation, sustainability and new business models are at the heart of this year's inter airport Europe, the world's leading trade fair for the global airport community. Visitors can look forward to a broad range of exhibits and live demonstrations by leading international brands and promising start-ups, supported by an intense programme of technical seminars and summit talks – all geared to boost operational advancement, strategic partnerships and investment to help airports meet their environmental and social commitments while delivering on ROI. The inter airport Europe Team has revealed some of the speaker and topic highlights coming up in October.
Diaz will present CANARD Drones' comprehensive tech platform that combines drones with a cloud-based platform and app.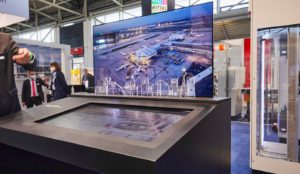 From 10 – 13 October 2023, the global airport community will gather for the 24th edition of inter airport Europe at the Munich Trade Fair Centre in Germany. With nearly 50 years in the industry, this international flagship event is known as the most senior gathering of global airport operators, airlines, CAAs, service suppliers, investors and aviation market experts looking to explore promising technology and concepts to navigate the many challenges and opportunities of today's airport industry.
This year's exhibition features an impressive programme of accompanying events and talks: The popular inter airport Europe Seminar offers the benefit of additional touchpoints between tech buyers and suppliers while providing much-needed insight and advice on new or emerging technologies in relation to wider market trends. And the prestigious inter airport Europe Innovation Awards put the spotlight on outstanding technological  achievements that drive innovation and excellence for better airports.
"Following the recent shake-up and recovery of air transport figures, the industry is now presented with a window of opportunity for renewal and intense investment", says Olaf Freier, Portfolio Director Transport of inter airport Europe, on behalf of show organiser RX. "We are very pleased to
offer this unique combination of leading trade exhibition, technical seminars and co-located summit talks to help pave the way for innovation, resilience and sustainability in the global aviation industry."
Opening and Innovations Awards Ceremony
The inter airport Europe Innovation Awards celebrate the achievements of the many inventors and technical pioneers within the exhibitor community, putting the spotlight on best practices, technologies and partnerships that drive innovation and excellence for better airports. The winners will be announced at the Opening and Innovation Awards Ceremony on Tuesday, 10th October, 11:00 – 12:00, at the Seminar Theatre in Hall B5. Welcoming presentations include speeches from Nicola Hamann, Managing Director at RX, Kay Bärenfänger, President at GATE Alliance, and Jost Lammers, CEO at Munich Airport.
inter airport Europe Seminar: Daily expert talks on technology trends
The inter airport Europe Seminar features technical talks on significant tech solutions to current and future airport issues. Sessions run over 15 to 30 minutes and cover leading terminal technology, disruptive digital innovations and efficient solutions for runway and apron. Topics this year focus on
the passenger experience and passenger journey, baggage handling solutions, security systems, as well as ramp and terminal management.
Key expert speakers include Dr. Lutz Weisser from Munich Airport International who will explore the Impact of innovation on the Passenger Journey, focusing on passenger data use in Europe and the US. CPHI Holdings will present An Industry First: Business Case for Airports and Ground handlers
on new airport concession income from baggage handling with lower costs to ground handlers.
Honeywell will hold a session on Driving Actionable Intelligence for Integrated Ramp Management, introducing the latest hardware and software for efficient gate management to increase capacity and safety while utilizing existing resources at airports.
Canard Drones will talk about Next-Generation Airport Inspections: Harnessing the Potential of Drone-Based Solutions. Midstream Lighting will dive into The 7 Lessons Learned in Apron Floodlighting, detailing the design, testing and implementation process of apron floodlighting.
Inform will speak about Cargo & Baggage Transports: Boost efficiency, sustainability and quality, expanding on the benefits of single driver pools for baggage and cargo.
The technical seminar will run on all four event days at the Seminar Theatre in Hall B5-1580. Visit the show website for the full seminar agenda.